The EDRSC holds a series of events every year for the McGill and Montreal community around eating disorders, disordered eating, and body image issues. These types are of five different types: 
Research
Therapeutic
Informational
Awareness Raising
They are held in different formats such as panels, workshops, roundtables, art nights and more.
We hold events for Mental Illness Awareness Week (the first week of October), Mental Health Action Week (In January) and Eating Disorder Awareness Week (first week of February) every year! Follow our social media @edresourceandsupport (Instagram) , and @ssmueatingdisorderawareness (Facebook) to find the information and links to these!
Mental Illness Awareness Week 2021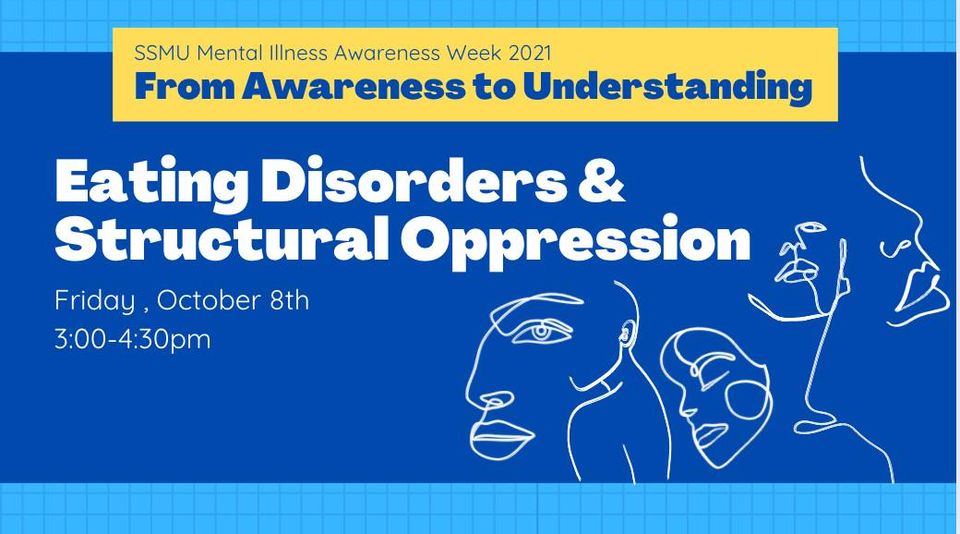 The EDRSC and our two guests HK and Lydia do a podcast-style event on eating disorders and structural oppression. They will explore the ways that structural forces of oppression influence our culture's fraught relationship to eating and our bodies, and how individual paths towards recovery are inextricably connected to larger struggles for collective liberation.
HK Jackson is an artist and writer living in Tiohtià:ke (Montreal, Canada), whose practice examines the limitations and potential of art as a force towards collective liberation. She also works as an educator, designing and teaching workshops for youth about harm-reduction, mental illness and supporting survivors of sexual violence.
Lydia Okello is a non-binary, queer, fat writer, model and digital creator. They are based in so-called Vancouver, on unceded Musqueam Squamish and Tsleil-Waututh land. They have been creating content related to personal style and identity since starting a blog in 2008.
The recording for this event can be found by clicking the dowload button below! 
Supporting Loved Ones Event
On November 28th, the EDRSC had an event on what it means to support a loved one struggling with disordered eating. Regardless of the relationship, the supporter role can be confusing and taxing. We hope this event acts as a resource for finding clarity and strategies for caring.